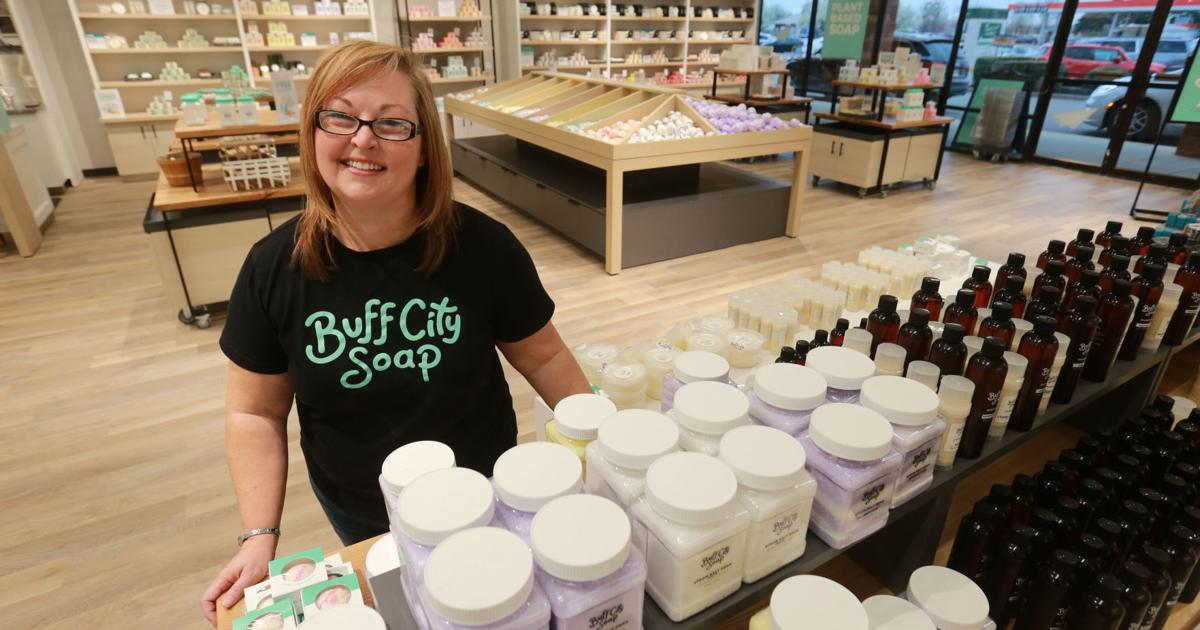 TUPELO • For a long time, Krista Scott was on the lookout for products that were not going to irritate her sensitive skin. Something that would moisturize and take care of it.
She knows she's not alone.
"I think a lot of people are also aware of what is going into their body and on their body," she said.
She happened to discover what was then called Bartlett Soap Company as a customer, which later became Buff City Soap. Today, the company is expanding quickly, with nearly 200 stores in 29 states.
"I not only used it every day, but it was something I really believed in and decided to became a part of it an open my own store," she said.
She opened that store in Tupelo in early March at 898 Barnes Crossing Road, in the Thompson Square shopping center adjacent to Kroger.
Founded in 2013 by former firefighter Brad Kellum, Buff City Soap offered an alternative to commercial soap products full of harsh chemicals, detergents, animal fats and sulfates, and replaced then with all-natural ingredients.
"We know exactly what goes into it because we're making it ourselves," Scott said, pointing to an employee who's making body butter with olive oil and a block shea. "When our guests come in, they can see what goes on the shelves. It's completely transparent. It's not being mass-produced by some machine in some factory somewhere."
Customers also get a chance to see the soap-making process live inside each "Soap Makery." Each store has more than 30 unique and customizable scents across dozens of handcrafted soap products including its soap bars, bath bombs, bath salts, shower fizzies, foaming hand soap and laundry soap. Customers also can customize the scent and ingredients to create a unique scent profile.
Popular secrets include top-selling "Narcissist," "Good Morning Sunshine," "All Hail the Queen," "Lavender" and "Black Raspberry Vanilla," Scott said.
The store also has seasonal scents available including local soaps that are exclusive to Tupelo, such as "Golden Wave," "Tupelo Honey" and "King's Guitar."
Some of additives used to give the soaps their scents include coffee grounds, poppy seeds, oats, Black Sea salt, lavender, rose and more.
"We have everything you need to clean and moisturize yourself from head to toe," Scott said. "We have products for women and men, and we even have beard and shave products for men."
Originally from Illinois, Scott has lived in the mid-south for more than 20 years. She fell in love with the area and Tupelo.
"I love this community," she said. "We're really fortunate because Tupelo has really strong small business community. Small business owners have really opened their arms to us, and we're really fortunate that we've reached out to them, and they've reached out to us. We're lucky and happy to be invited to be a part of the community."
Scott searched most of north Mississippi for the perfect location for her store, but ultimately found Tupelo to be ideal.
"We thought that not only could it support the store, but it could also benefit from it," she said. "We also own a store in Southaven, and we had customers who would drive an hour from Tupelo to shop there. So we knew there was a desire and need, and we decide to open here."
It took about a year for her to find the right spot, and the space she found was exactly what she was seeking.
"We're right here for people to get what they need to wash their bodies as they get food to feed their bodies," she said.
The Tupelo Buff City Soap store, including the back storage space, is about 3,500 square feet, making it one of the larger stores in the company. The store also can host bath bomb parties, and will have soap-making classes
The Tupelo store hours are Monday – Saturday 10 a.m. to 7 p.m., and Sunday noon to 6 p.m.
from WordPress https://ift.tt/st8FWUn
via
IFTTT