Prioritizing a safe and comfortable experience for all participants, Natural Products Expo West recently made its return to the Anaheim Convention Center (ACC) in Anaheim, Calif., for its first in-person trade show since the start of the pandemic. Held March 8-12 and collocated with Fresh Ideas Organic Marketplace, the largest annual show for the $274 billion natural products industry hosted a bustling event echoing its most recent sister edition, Natural Products Expo East, held at the Pennsylvania Convention Center in Philadelphia Sept. 22-25, 2021.
As part of Informa Markets' New Hope Network portfolio of brands, the energetic show celebrated its 41st edition by gathering more than 2,700 exhibitors and more than 57,000 attendees to experience the latest innovations in natural and organic foods and beverages, clean beauty and home products, and supplements and ingredients, as well as reconnect with colleagues and focus on the future of the industry.
"The turnout we've seen this week is a strong indication that the industry prioritizes face-to-face connection and product discovery and recognizes in-person events as the most effective means of conducting business," said Lacey Gautier, vice president of events, Informa Markets' New Hope Network. "The energy at this show was palpable, and we are really excited to be back in Anaheim with our incredible clients, community and vendor partners."
A Vibrant Showfloor and Compelling Content
Based on a spike in event registrations and retailer commitments since the start of 2022, show organizers had anticipated strong turnout from leading retailers, innovative exhibitors, pioneering sponsors and changemaking industry partners. They weren't disappointed.
Across 447,735 square feet of expo space, exhibiting companies shaping the future of food and wellness – including 625 emerging brands making their Expo West debut – showcased a plethora of products while connecting with enthusiastic buyers looking to discover the newest trends in natural and organic items.
"This is our first time at Expo West, so it was a big eye-opener and really exciting to be surrounded by this group of people," said Exhibitor Cindy Convery, founder of Pure Wild Co. "As a new brand that's just launched, it makes you feel a little more welcome and supported by the natural foods community. Meeting buyers and distributors was great, and I also found some excellent suppliers and co-packers."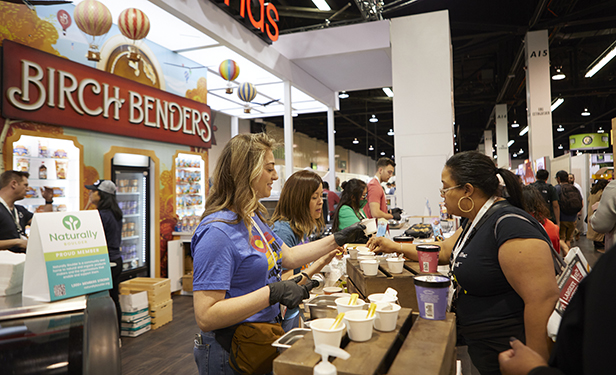 The four-day event also saw the return of a robust lineup of 43 education sessions, special events, awards celebrations and keynote presentations, including "Raising the Standard: Clean, Healthy Nutrition for All Kids," featuring a discussion with actress and Once Upon a Farm Co-Founder Jennifer Garner; "The Joy of Plant-Based Eating" with influencer Tabitha Brown; and "The Color of Food: Navigating Cultural Appropriation, Ownership and Heritage in the Food Industry."
Additional show highlights included the information-packed The State (and Future) of the Natural & Organic Industry session; Climate Day; Pitch Slam; JEDI Community Happy Hour; and Evenings on the Plaza with live music.
"Gathering the community again for Expo West is an important milestone as we move forward to shape the future of health and wellness together," said Carlotta Mast, senior vice president and market leader at Informa Markets' New Hope Network. "Being in the same space allows for the important conversations and meaningful connections that are catalysts for increasing inclusivity and igniting the joy and passion that has fueled this industry into what it is today."
Safety and Sustainability at the Core of the Event Experience
To keep all event participants safe and healthy, masks were required at the ACC and all surrounding hotels and venues, with proof of vaccination or a negative COVID test required. According to show officials, New Hope Network made sure to adhere to and support local and CDC guidelines and worked closely with the Orange County health agency to outline policies with support from local authorities.
In addition to top-notch health and safety protocols, New Hope Network increased the event's long-standing sustainability commitment through enhanced waste diversion efforts, including donations of 171,000 pounds of leftover food to Second Harvest and materials to Habitat for Humanity, alongside ramped-up efforts to increase renewable energy sources, carbon offsetting and mindful procurement.
Industry members who participated virtually were able to access livestreamed content throughout the week via the Natural Products Expo Virtual Community platform. These sessions were archived for on-demand viewing following the in-person show alongside prior virtual programming, including a keynote with actress and Goodles Co-Founder Gal Gadot, as well as future sessions to be added throughout the year. Meanwhile, the show's virtual booths remained open throughout March for product discovery and meeting requests.
"With the return of Natural Products Expo West, we can truly say Anaheim is back," said Anaheim Mayor Harry Sidhu. "After a difficult two years for all of us, this shows the resilience of our city and the natural products community. We once again were able to gather safely and celebrate natural, organic and healthy living. The return of Natural Products means so much, helping Anaheim support more than 346,000 residents, 20,000 businesses and 25 million visitors."
Natural Products Expo East 2022 is set for Sept. 28-Oct. 1 at the Pennsylvania Convention Center, while Natural Products Expo West 2023 will return to the ACC March 7-11.
Don't miss any event-related news: Sign up for our weekly e-newsletter HERE, listen to our latest podcast HERE and engage with us on Twitter, Facebook, LinkedIn and Instagram!
from WordPress https://ift.tt/kAr2GpE
via
IFTTT